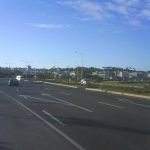 We offer personalized dual carriageway driving courses for drivers who wish to enhance their level of skill and safety on these busy roads. We already help people from a variety of backgrounds and driving experiences, including:
Newly Qualified Drivers – Those who have recently passed their driving test, and have never driven a car alone on a dual carriageway, and want expert tuition
Dual carriageway Anxiety – Drivers who have selected anxiety of employing a dual carriageway, which they want to overcome
Post Collision – Motorists who have been involved in a road traffic collision (either on or off a dual carriageway)
Need to Use Dual carriageways – Those who need to use the dual carriageway more, and want to ensure their skills are up to the challenge
Your Dual Carriageway Anxiety:
Dual carriageway anxiety is much more common than most think. Despite them being the safest of all Barbados roads, the speed, congestion and often complex junctions leave many dreading the thought of driving on them. This is why we have designed our personalized dual carriageway course, designed for drivers who want to regain their freedom and take hold of dual carriageway driving, once and for all.
Our dual carriageway courses are like our very fashionable advanced driving courses. The first thing we do on all our dual carriageway courses is to listen to you, discuss your anxieties, talk about things you're ok with, and things, which really concern you about dual carriageway driving. Listening means we can much better personalize the training to your own specific needs.
During a course this is often what we typically cover, although it does often vary from driver to driver:
How to safely enter and exit a dual carriageway
Keeping a secure distance from other dual carriageway users
handling adverse weather (rain and wind mainly) on a dual carriageway
How to cope with and defuse road rage on dual carriageways
Learning to safely manage speed on dual carriageways
How to remain alert on a long journey
How to recognise driver fatigue
Anticipate the actions and intentions of other dual carriageway users
Rules and dual carriageway signals
What to do in the event of a breakdown on a dual carriageway
Observation and advanced planning
Read our dual carriageway driving tips
Our dual carriageway driving courses are delivered by DTAS registered advanced driving instructors, who all have an extensive level of experience in delivering driver training to full licence holders.
Book A Course Online:
You can book up to 4 drivers on a course online, select ideal dates, and pay or request an invoice. Please visit www.bdtas.com/book


Our Course Key Facts:
Training is $320 a driver for a 3.5hr session and $480 for a 7hr session.
Training starts and ends at your office or offices
All tutors are BDTAS (Barbados Driver Training Advisory Services) Trained and Registered
We measure a driver in 25 key areas of driving on our reporting sheets, and rate them either Excellent, Very Good, Good, Adequate or Poor. We do this at the start of training, and at the end so you can measure their progress and overall skill level as a driver.
We work with businesses of all sizes and sectors.

Benefits of Our Advanced/Defensive Driver Training:
Increase the level of driver safety in your fleet
Demonstrate your Duty of Care
Help a driver who is having significant issues with their driving
Improve the reputation of your business, especially if you have company branded vehicles
If you are looking to train 1 to 4 drivers, you can do this online via our booking system. We are the only driver training company in Barbados, that offers this facility, where you can also reserve ideal training dates.

How a Course Runs:
All our courses are road-based and take place in a driver's own or company vehicle. The course is personalized and based on the needs of the driver, although it follows a set format, which covers:
An Initial Drive– This allows our tutors to assess the drivers level of experience and skill after the initial introductions and vehicle safety checks. We ask a driver to drive the way they normally do with no input from the tutor, for around 45 minutes.We then mark them in 25 areas of driving, either Excellent, Very Good, Good, Adequate or Poor. This forms an excellent basis to build on the session, as both the driver and tutor can see the areas, which need most development. This helps create a truly personalized training session.
Coaching– Based on the initial drive, the coaching will be designed around the needs and requirements of the driver, in an interactive and enjoyable way. We will be driving on a range of roads including urban driving, out of town (rural) driving, and highway/dual carriageways. During this session there will be the chance for two-way feedback, along with opportunities to recap what has been covered.
Debrief– At the end of the course there will be a two way debrief, where the tutor will provide feedback on the session, and where feedback from the driver is also encouraged. The tutor will again mark the driver on the 25 driving areas, which were looked at on the initial drive, making it extremely easy to see how the driver has improved, to what extent, and in what areas.
We provide a risk assessment for each driver at the end, which will be High, Medium, or Low risk. A pdf report will be sent to you around 3 days after each training session.