Our defensive and advanced driving courses are not only for car drivers, we also offer personalized advanced/defensive minibus driver and conductor training for people who want to become safer minibus operators.
Our minibus driving course is ideal for operators that:
Have recently started employment, which involves operating a minibus, but have little or no experience in driving such a vehicle
Drives a minibus as part of their job, but have been having a few too many bumps and scrapes, or near misses
Drives a minibus but struggles with the size and needs additional tuition to become safer
We can provide minibus driver training in both small and large minibuses up to 34 passenger seats. You will need to have D1 entitlement in your licence. Category D1 – this suggests you'll drive a minibus with up to 16 passenger seats without having a further driving test.
Two Popular Minibuses We Provide Driver Training In:
The Hino Road Runner Minibus –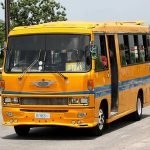 All training is in your own minibus – we don't supply any vehicles ourselves.
The Toyota HiAce Minibus – this is often one among the foremost popular van-based minibuses, where we will provide training in.
Minibus Training – Course Content:
Forward planning and observation
How to gain confidence when driving a minibus
Car vs Minibus – they key differences you need to be aware of
How to concentrate on a noisy, full minibus
Rules of the road
Minibus Manoeuvres (Right and Left reverse + reversing)
Advanced mirror use
Cornering techniques
Skid control techniques
How a full minibus impacts on vehicle handling and braking
Psychological elements of minibus driving
Space management and awareness
Dual Carriageway, Town and Rural driving techniques for minibuses
Conductor roles and responsibilities
Conductor etiquette.
Following the course, each driver/ conductor will get a full driving report outlining what was covered, and their overall risk. We measure a driver both before and after training in 20 areas of driving, so you'll see how they improved and in what areas.
Quote & Course Duration:
Drivers:
We can provide a full day (7hrs) and a half-day (3.5hrs). A full day is $480.00 and a half-day is $260. If you would like us to coach a variety of drivers, we will split each day, so one driver is trained for 3.5hr in the morning and another driver trained for 3.5hr within the afternoon for an equivalent price as a full day.
Conductors: 
We can provide a full day (7hrs).  A full day is $360.00.  If you would like us to coach a variety of conductors, we can conduct most of the training in a classroom environment. 
Our Tutors:
All our tutors are DTAS (Driver Training Advisory Services) registered fleet/advanced driving instructors, who specialize in driver training for full licence holders. The tutors we use for minibus driver training have extensive experience in delivering training for minibus drivers and other vehicles of comparable size.
Get in Touch:
Please contact us using the form on the upper right, or call us, and a member of our team will be happy to help answer any more questions you may have or to look at free dates. We have full island coverage and are available to you for the training.